Tangling with the Silver King from a Humble Throne
We have entered into our summer weather pattern, and this creates some unique opportunities for thrill seekers on Central Florida's east coast. The relentless winds of the springtime have finally subsided and along with it comes generally calm seas. Kayak fishing is growing in popularity at an exponential rate, and "Lake Atlantic" offers an inviting destination for paddlers to try their hand at sea.
There are few fish that get my heart racing more than tarpon. I can't say if it's their sheer size, spectacular fights, or prehistoric appearance, but the silver king truly is the king of all inshore gamefish. Tarpon cruise the beaches along the entirety of Brevard County's coastline this time of year, which means there is plenty of access to these fish and little competition for "secret spots."
Gearing up to Face the Silver King
Whenever I venture out into the ocean, I like to bring four rods with me. The first rod is a light tackle outfit rigged with a sabiki for catching bait. The next two rods are for casting/trolling artificial lures in case live bait is scarce. Last but not least, is a rod rigged for tarpon. I prefer a large spinning reel that can hold 400+ yards of 40 or 50 lb braid. Tie that to a few feet of 80 lb monofilament or fluorocarbon leader, and a 5/0 extra strong circle hook on the end. Keep it simple!
Ocean kayaking is abusive on gear. Sand, seawater, and big fish will test the limits of your tackle. While it is necessary to have reliable gear you can count on, I don't bring anything I am too attached to in case the elements get the best of it.
Making Bait the First Priority
My first priority when setting out on the water is catching bait. While tarpon are commonly caught on artificial lures and flies, I have found live bait is the best means to increase your odds of success. Look for baitfish flicking at the surface and let the sabiki rig do its job. I keep a Flow Troll bait bucket in the back of my kayak and change the water out often.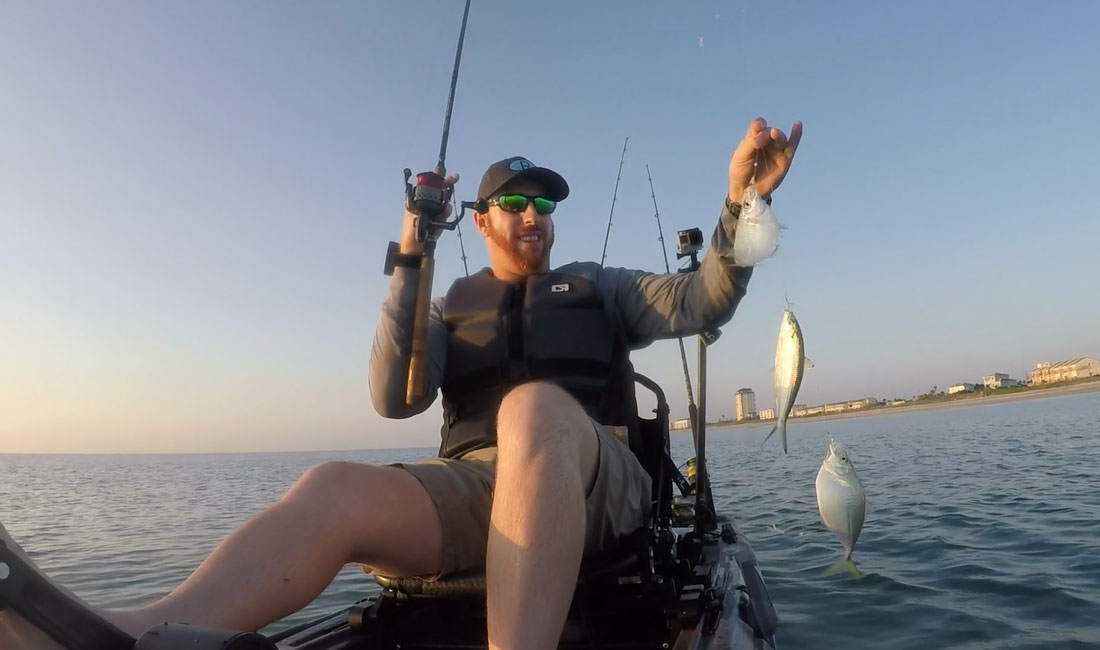 Greenies, threadfins, mullet, and sardines are like candy for a hungry tarpon, but don't discount the lowly Hornbelly (aka Atlantic Bumper). Hornbellies are among the most common baits you will catch, and many folks curse the idea of using one. This is probably because they don't troll well at faster speeds. Good thing you are in a kayak and you won't be going anywhere fast! I have found just about everything (including tarpon) will gladly eat a hornbelly.
Plan of Attack
Once live bait is secured, my general strategy is to slow troll. If you see rolling tarpon, take note of their distance from shore and hold that line as you troll up and down the beach. If not, 200-400 yards off the beach is a good place to start. As you might expect, look for diving birds, bait pods, and predatory activity on the surface.
I generally start my trip at dawn, but action can be had throughout the day. It is not uncommon for me to paddle 5-10 miles in an outing. An alternate strategy is staying put and waiting for the fish to come to you. Regardless, pay your dues, put in your time, and eventually you will connect!
Hold on Tight and Bow to the Silver King!
When you finally do hook a tarpon, there is no mistaking it. Line will scream off the reel and most fish go airborne right away. If you can remain hooked up through the first few seconds of chaos, your first hurdle is behind you. Now it is time to buckle down and get to work!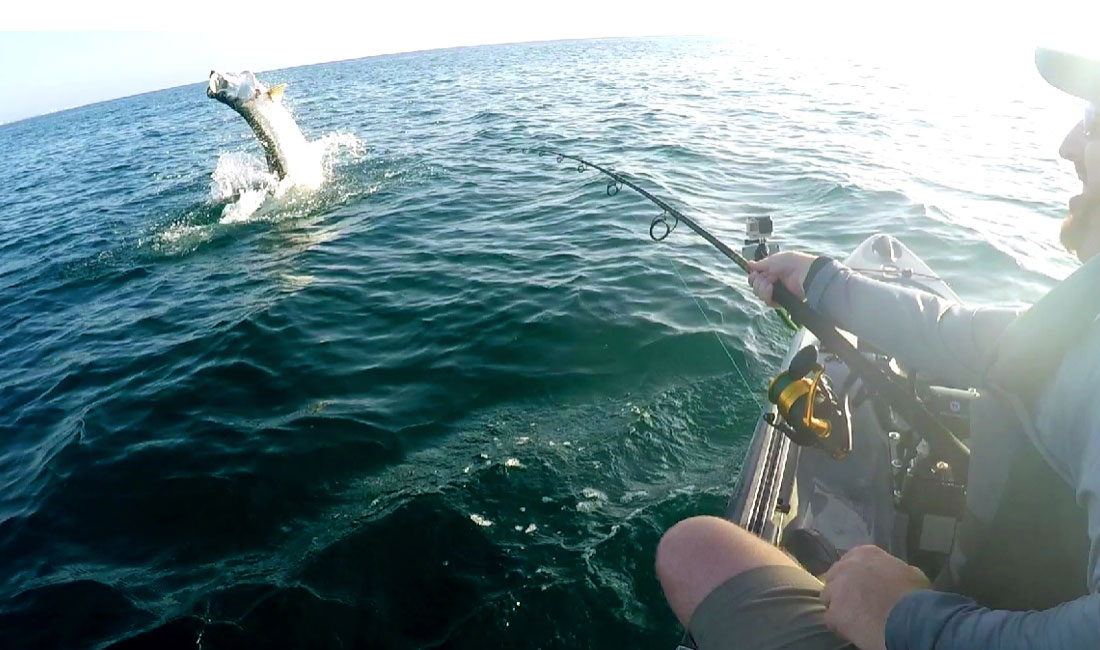 Kayak anglers live for the "sleigh ride" of being towed along by a big fish. The power and stamina of these animals is hard to comprehend. Tarpon will often come up for a gulp of air several times throughout the fight. Almost instantly, they get a tremendous surge of power that will have you questioning how you will ever land this beast from such a diminutive craft.
Tarpon are incredible fighters to the very end, and have plenty of tricks at their disposal to break your line or throw the hook. Try to anticipate the jumps and "bow to the Silver King" by dropping your rod tip and letting the line briefly go slack when they leave the water. Eventually they do tire and if you are lucky enough to have that happen before your own arms fall off, then you have a shot at victory!
Choosing Your Fishing Kayak
Kayaks come in all shapes and sizes with price points ranging from a couple hundred dollars to a couple thousand dollars. Good news is even the highest-end kayaks cost a small fraction of a new boat-motor-trailer, and you can't beat the gas mileage! While I won't attempt to argue which makes and models are the best, I can offer a few pointers for consideration.
Longer kayaks are generally faster than shorter kayaks. Wider kayaks are usually more stable than narrow kayaks. Speed and stability are two of the most critical characteristics to look for. Since one is often sacrificed for the other, you need to determine where your priorities lie. A good place to start is deciding if standing up is important to you. With the right kayak, some practice, and a decent sense of balance, standing up is very doable. But if you decide that is not for you and plan to stay seated at all times, it is best to compromise some stability for extra speed.
Pedal powered kayaks have been a real game changer in recent years. Your legs are the largest muscle group in your body, so naturally channeling this into propulsion makes sense. Whether driven by a propeller or oscillating fins, pedal drive kayaks offer surprising efficiency. This is a big plus for covering longer distances, operating hands free, or if you happen to find yourself up a creek without a paddle. The biggest drawback is cost. Plan on spending two to four times more for a pedal kayak than a standard one. They also tend to be a bit heavier than their paddle-only counterparts. The hull has to be reinforced to accommodate the extra hardware which adds weight.
The biggest piece of advice I can offer when selecting a kayak is to try several out first. The subtle differences between your options can have a large impact on how enjoyable your experience will be. As with many things, "you get what you pay for" very much applies to a kayak purchase. There are plenty of respectable budget-minded kayaks out there that will do the job just fine, but I always encourage people to go with the best kayak they can afford.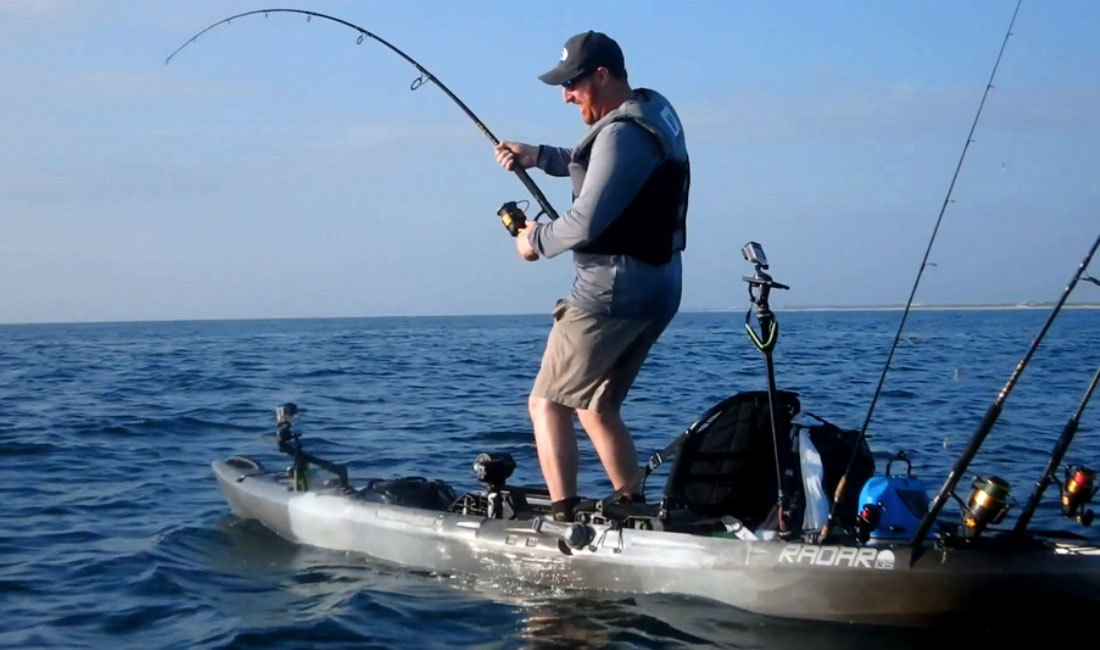 Staying Safe on the Water
Florida law is fairly straightforward when it comes to paddle craft. You need some kind of noisemaking device, a white light if you are paddling before dawn or after dusk, and a life jacket on board. I encourage folks to take that a step further and actually wear your life jacket when venturing out in the ocean. Things can go wrong in a hurry when chasing big fish in big waters.
Plan your trip with a buddy or at least tell someone where you will be. Even if you intend to hug the beach, it is not uncommon for a hooked tarpon to drag you out to sea, sometimes a couple miles. Make sure you are in decent enough physical shape to make the return trip home.
Always keep a close eye on the weather. Conditions can change in a hurry. The Florida sun shows no mercy in the summer time. Drink plenty of water before during and after your outing to avoid dehydration. Pay attention to the wind direction, and check the forecast to determine if the wind will change directions during your outing. Don't take chances with thunderstorms. It's not like you can just fire up the outboard and outrun a storm.